Anthropologie Catalina Bedding Knockoff and Tutorial
How I made a knockoff of Anthropologie's popular Catalina bedding in Aqua for my daughter's dorm room.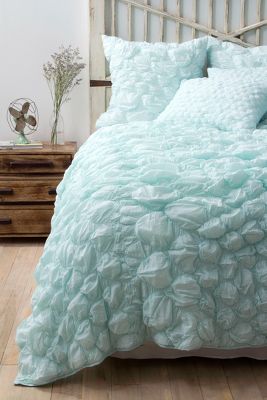 When my daughter told me she wanted Anthropologie's Catalina bedding in aqua for her dorm room, I figured I could make a pretty good knockoff for a fraction of the cost.  While I'm happy with the results, there are a few things I would do a little differently if I had it to do over again.  Read on to see how you can achieve the same look, and learn from my mistakes.
Supplies You'll Need:

Please note: I made a twin size quilt and a standard sham, so modify these amounts accordingly if you plan on making a larger size and/or more shams

2-3 water soluble ink pens (you can get these from Walmart for $2-$3 a piece)

NOTE: DO NOT USE DISAPPEARING OR AIR SOLUBLE INK PENS! You may find that all your hard work tracing the design goes down the drain if you don't get your project completed quickly enough!

4-6 spools thread (110 yds ea)

NOTE: If your local fabric/crafts store doesn't have enough on hand for your project, this is a great source for Gutermann thread – search her auctions for 6 spools (you choose the color) for $9.59 w/free shipping! I used Gutermann color #600 to go with the shade of aqua we picked for this project.

3 spools elastic thread (30 yds ea) (I bought mine at JoAnn's, but also saw them at Walmart)

Large piece of light-colored poster board (don't get the rigid kind, just a large piece about the weight of cardstock)

Quilt batting (purchase the size needed for your project)

The rest of the supplies listed below are talked about in more detail below:

A free-motion or darning foot for your sewing machine.

Fabric

Optional – Fabric dye

Optional – 4 rubber fingertips or large rubber bands
Linking up to:
Click here to see where this project was featured.